DEW POINT MONITORS-PORTABLE & NEMA STYLE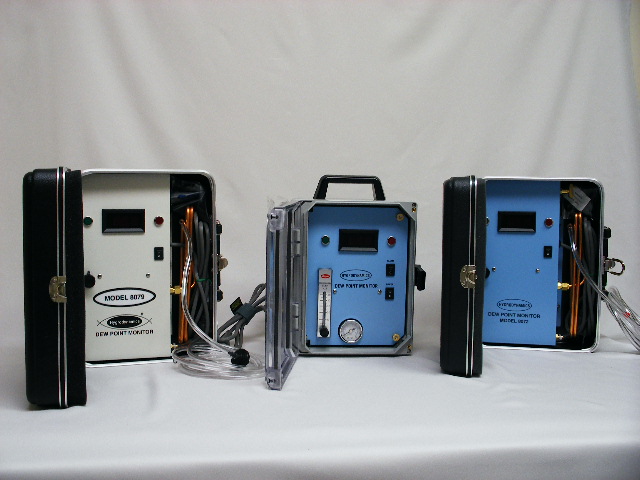 Hygrodynamics dew point monitors are an industy favorite- and have been for over 30 years. Simple to use and reliable, these moisture measurement tools are used in a variety of applications, from plastics molding to medical breathing air systems.
All models feature LED display of dew point, visual and audible high dew point alarms, and linear signal output for recording of dew point trends.
Portable Models
Our portable monitors are fully contained in a waterproof carrying case. Everything needed to use the device is protected in the case when not in use- power cord, sample tubing and accessories, etc. There's even extra space to store user-supplied fittings and adapters that might be specific to your testing needs.
Hygrodynamics monitors with vacuum assisted sampling are unique in the industry. A built-in air pump draws a sample of process air through the internal sensor cell. These models are popular with plastics injection molders since they can test high temperature process air without exposing the dew point sensor directly to damaging heat and plastic resin dust. This sampling method is also helpful for testing dryness of bulk material stored in a hopper or container, where it might be impractical to sense moisture content directly.
Top-selling vacuum assisted models:
8072A used by plastics molders to check the operation of desiccant dryers. Measures -40°F to +15°F dew point.
8079A similar to 8072A, but measures -76°F to +32°F. Used to test critical molding processes.
Monitors for compressed air work by bleeding some process air through an internal sample cell. These portable models feature a 6 foot sample hose with industrial-style quick connect coupling. Simply plug the sample hose into any compatible quick connect in your air distribution system to check moisture content. Measures true pressure dew point wherever you need to verify air dryness- either at your dryer output or at point of use. These monitors are useful in any application that requires compressed air utilities- spray painting, pneumatic driven machinery and tools, medical breathing air, etc.
Top-selling compressed air models:
8074A for refrigerated dryers. Measures PDP from +10°F to +70°F.
8075A for desiccant dryers. Measures PDP from -40°F to +15°F.
NEMA Enclosure Models
All the same functionality of our portable models is available in a variety of NEMA-style enclosed configurations. These are designed for permanent installation on drying equipment or in a shop environment.
Top-selling NEMA models:
8092 for compressed air refrigerated dryers. Suitable for shop air or medical air systems. Measures +10°F to +70°F.
8097 for compressed air desiccant dryers. Great for monitoring instrument grade air. Measures -40°F to +15°F.
Calibration Service
Hygrodymanics provides NIST traceable calibration and repair service for all of its monitors. See the OEM CALIBRATION SERVICES page for specifics. Always obtain a RMA number from us before sending in your unit!
SPECIFICATIONS AND ORDER INFORMATION
| Catalog Number | Product Name | Product Description | Add To Cart |
| --- | --- | --- | --- |
| 8072A | Portable Dew Point Monitor for Plastics Drying | Portable monitor in instrument case measures dew point from -40°F to +15°F, ideal for plastics drying applications. Built-in vacuum pump samples air through 3/16" ID flexible tubing. | Add To Cart |
| 8072A-230V | Portable Monitor for Plastics Drying | Portable monitor in instrument case measures dew point from -40°F to +15°F, ideal for plastics drying applications. Built-in vacuum pump samples air through 3/16" ID flexible plastic tubing. 230VAC version | Add To Cart |
| 8074A | Portable Dew Point Monitor for Refrigerated Dryers | Portable monitor fully contained in carrying case measures dew point from +10°F to +70°F. Built-in vacuum pump samples air through 3/16" ID flexible tubing. | Add To Cart |
| 8075A | Portable Dew Point Monitor for Compressed Air Desiccant Dryers | Portable monitor fully contained in carrying case measures pressure dew point from -40°F to +15°F. Supplied with 6' sample hose and industrial style quick connect plug and coupling. Operates with air pressure of 20 - 150psi. | Add To Cart |
| 8076A | Portable Dew Point Monitor for Compressed Air Refrigerated Dryers | Portable monitor fully contained in carrying case measures pressure dew point from +10°F to +70°F. Supplied with 6' sample hose and industrial style quick connect plug and coupling. Operates with air pressure of 20 - 150psi. | Add To Cart |
| 8079A | Portable Dew Point Monitor for Desiccant Dryers | Portable monitor fully contained in carrying case measures dew point from -76°F to +32°F, ideal for critical plastics drying applications. Built-in vacuum pump samples air through 3/16" ID flexible tubing. | Add To Cart |
| 8092 | Wall Mount Monitor for Compressed Air Refrigerated Dryers | Measures +10°F to +70°F dew point up to 150 PSIG. Sensor is housed in an internal manifold. Supplied with 6 feet of 1/4" hi-pressure plastic tubing ending with 1/8" NPT male fitting. Temperature compensated for air temperatures from +50°F to +100°F. Approx. 10-1/2"x8-1/2"x6", 7.4 Lbs | Add To Cart |
| 8092-230V | Wall Mount Monitor for Compressed Air Refrigerated Dryers | Measures +10°F to +70°F dew point up to 150 PSIG. Supplied with 1/4" hi-pressure plastic tubing to 1/8" NPT male fitting. Temperature compensated for air temperatures from +50°F to +100°F. 230VAC version. Approx. 10-1/2"x8-1/2"x6", 7.4 Lbs | Add To Cart |
| 8092W2 | Wall Mount Monitor for Compressed Air Refrigerated Dryers | Measures +10°F to +70°F dew point up to 150 PSIG. Sensor is housed in an internal manifold. Supplied with 6 feet of 1/4" hi-pressure plastic tubing ending with 1/8" NPT male fitting. Temperature compensated for air temperatures from +50°F to +100°F. Approx. 10-1/2"x8-1/2"x6", 7.4 Lbs - This unit has 2 alarm set points | Add To Cart |
| 8097 | Wall Mount Monitor for Compressed Air Desiccant Dryers | Measures -40°F to +15°F dew point up to 300 PSIG. 1" NPT male pipe mount sensor can be used in +60°F to +140°F process air temperatures. Approx. 10-1/2"x8-1/2"x6", 6.5 Lbs | Add To Cart |
| 8097-230V | Wall Mount Monitor for Compressed Air Desiccant Dryers | Measures -40°F to +15°F dew point up to 300 PSIG. 1" NPT male pipe mount sensor can be used in +60°F to +140°F process air temperatures. 230VAC version. Approx. 10-1/2"x8-1/2"x6", 6.5 Lbs | Add To Cart |
| 8098 | Wall Mount Monitor for Plastics Drying | Wall mount version of our popular 8072. Measures dew point from -40°F to +15°F, ideal for the plastics drying industry. Built-in vacuum pump samples air through 3/16" ID flexible plastic tubing. Approx. 10-1/2"x8-1/2"x6", 8.5 Lbs | Add To Cart |
| 8098-230V | Wall Mount Monitor for Plastics Drying | Wall mount version of our popular 8072. Measures dew point from -40°F to +15°F, ideal for the plastics drying industry. Built-in vacuum pump samples air through 3/16" ID flexible plastic tubing. 230VAC version. Approx. 10-1/2"x8-1/2"x6", 8.5 Lbs | Add To Cart |
| RENTAL UNITS | DEW POINT MONITORS FOR RENT | We rent dew point monitors. | Add To Cart |
Additional Ordering Information

Create RFQ Manually