- DEW POINT MONITORS-PORTABLE & MOUNTED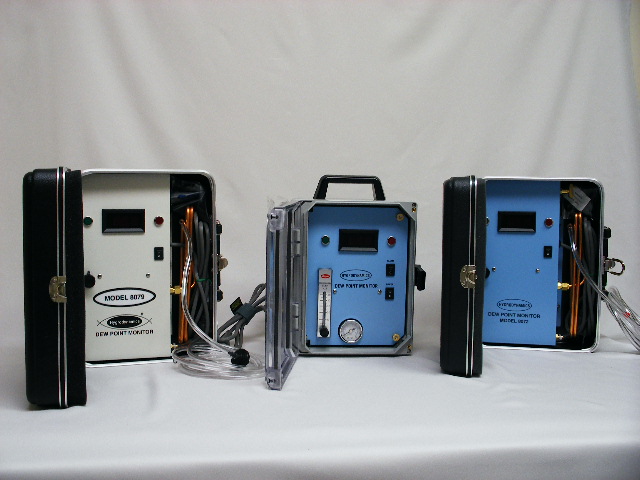 DEW POINT MONITORS-PORTABLE & WALL MOUNT
IMPROVE YOUR PLASTICS MOLDING QUALITY
Quality in your molded products depends on the dryness of the plastic resins used during processing. Excessive moisture is often discovered too late, after the product is disfigured, splayed, or weakened by bubbles due to trapped moisture. HYGRODYNAMICS Dew Point Monitors provide accurate dew point measurement, helping you maintain consistent molding quality.
REDUCE DOWNTIME OF COMPRESSED AIR SYSTEMS
Excessive moisture in compressed air lines corrodes sensitive pneumatic tools, machinery, instruments, and controls.
HYGRODYNAMICS
Dew Point Monitors measure moisture levels in compressed air systems to prevent corrosion and freeze-ups.
MONITOR MEDICAL AIR TO
NFPA 99
REQUIREMENTS
NFPA 99 requires continuous monitoring of medical air for correct dew point.
HYDRODYNAMICS Dew Point Monitors meet your needs in medical facilities.
ALL DEW POINT MONITORS OFFER:
Dew Point Display in ° C or ° F

Relay Output with Adjustable Set Point

4 - 20mA or 0 - 5 Volt Recorder Output

Audible Alarm with Disable Switch

High Visibility Alarm Light

Low Maintenance - Sensor May be Replaced Easily
OEM kit versions of Dew Point Monitors are available to meet almost any dew point measurement need.
CALIBRATION SERVICES
When your unit needs calibration, please call us. We provide certifications with our calibrations should you wish to purchase one. We offer
NIST Certifications
that state your unit has been calibrated against a NIST traceable standard, or a 'Before and After' Certification which includes readings taken prior to calibration and readings taken after any repairs and adjustments are made. Should you wish to send your unit in, please call for a Return Authorization so we know what to do with your unit when it gets here!
HERE IS A QUICK SELECTION GUIDE TO CHOOSE THE UNIT THAT FITS YOUR NEEDS
MODEL

8072A

8097

8098

8092

8079

DEW POINT RANGE

-40 ° F TO +15°F

-40 ° F TO +15°F

-40 ° F TO +15°F

+10°F TO +70°F

-76°F TO +32°F

ACCURACY

+ 3°F

+ 3°F

+ 3°F

+ 3°F

+ 5°F

MAXIMUM PRESSURE

7 PSIG

300 PSIG

7 PSIG

150 PSIG

7 PSIG

SAMPLING METHOD

1/4" PLASTIC TUBING

1" NPT MALE PIPE MOUNT SENSOR

1/4" PLASTIC TUBING

1/4" TUBING WITH 1/8" NPT MALE END

1/4" PLASTIC TUBING

SAMPLE AIR TEMP.

60°F TO 275°F

60°F TO 140°F

60°F TO 275°F

50°F TO 100°F

60°F TO 275°F

ENCLOSURE

INSTRUMENT CASE

NEMA-12

NEMA-12

NEMA-12

INSTRUMENT CASE

DIMENSIONS

10 3/4" x 9 3/4" x 4 3/4"

10 1/2" x 8 1/2" x 6"

10 1/2" x 8 1/2" x 6"

10 1/2" x 8 1/2" x 6"

12 1/2" x 9" x 5"

NET WEIGHT

6.7 LBS.

6.5 LBS

8.5 LBS.

7.4 LBS.

6.2 LBS.

APPLICATION

PLASTICS
DRYING

DESICCANT DRYERS

PLASTICS
DRYING

REFRIGERATED DRYERS/MEDICAL AIR

MONITORING

PLASTICS
DRYING
Other models and configurations are available upon request - please call the factory with your specifications. The above are just our most popular models!
SPECIFICATIONS AND ORDER INFORMATION
| Catalog Number | Product Name | Product Description | Add To Cart |
| --- | --- | --- | --- |
| 8072A | Portable Dew Point Monitor for Plastics Drying | Portable monitor in instrument case measures dew point from -40°F to +15°F, ideal for plastics drying applications. Built-in vacuum pump samples air through 1/4" plastic tubing. | Add To Cart |
| 8072A-230V | Portable Monitor for Plastics Drying | Portable monitor in instrument case measures dew point from -40°F to +15°F, ideal for plastics drying applications. Built-in vacuum pump samples air through 1/4" plastic tubing. 230VAC version | Add To Cart |
| 8079 | Portable Monitor for Plastics Drying | Portable monitor in instrument case measures dew point from -76°F to +32°F, ideal for plastics drying applications. Built-in vacuum pump samples air through 1/4" plastic tubing. | Add To Cart |
| 8079-230V | Portable Monitor for Plastics Drying | Portable monitor in instrument case measures dew point from -76°F to +32°F, ideal for plastics drying applications. Built-in vacuum pump samples air through 1/4" plastic tubing. 230VAC version. | Add To Cart |
| 8092 | Wall Mount Monitor for Compressed Air Refrigerated Dryers | Measures +10°F to +70°F dew point up to 150 PSIG. Sensor is housed in an internal manifold. Supplied with 6 feet of 1/4" hi-pressure plastic tubing ending with 1/8" NPT male fitting. Temperature compensated for air temperatures from +50°F to +100°F. Approx. 10-1/2"x8-1/2"x6", 7.4 Lbs | Add To Cart |
| 8092-230V | Wall Mount Monitor for Compressed Air Refrigerated Dryers | Measures +10°F to +70°F dew point up to 150 PSIG. Supplied with 1/4" hi-pressure plastic tubing to 1/8" NPT male fitting. Temperature compensated for air temperatures from +50°F to +100°F. 230VAC version. Approx. 10-1/2"x8-1/2"x6", 7.4 Lbs | Add To Cart |
| 8092W2 | Wall Mount Monitor for Compressed Air Refrigerated Dryers | Measures +10°F to +70°F dew point up to 150 PSIG. Sensor is housed in an internal manifold. Supplied with 6 feet of 1/4" hi-pressure plastic tubing ending with 1/8" NPT male fitting. Temperature compensated for air temperatures from +50°F to +100°F. Approx. 10-1/2"x8-1/2"x6", 7.4 Lbs - This unit has 2 alarm set points | Add To Cart |
| 8097 | Wall Mount Monitor for Compressed Air Desiccant Dryers | Measures -40°F to +15°F dew point up to 300 PSIG. 1" NPT male pipe mount sensor can be used in +60°F to +140°F process air temperatures. Approx. 10-1/2"x8-1/2"x6", 6.5 Lbs | Add To Cart |
| 8097-230V | Wall Mount Monitor for Compressed Air Desiccant Dryers | Measures -40°F to +15°F dew point up to 300 PSIG. 1" NPT male pipe mount sensor can be used in +60°F to +140°F process air temperatures. 230VAC version. Approx. 10-1/2"x8-1/2"x6", 6.5 Lbs | Add To Cart |
| 8098 | Wall Mount Monitor for Plastics Drying | Wall mount version of our popular 8072. Measures dew point from -40°F to +15°F, ideal for the plastics drying industry. Built-in vacuum pump samples air through 1/4" plastic tubing. Approx. 10-1/2"x8-1/2"x6", 8.5 Lbs | Add To Cart |
| 8098-230V | Wall Mount Monitor for Plastics Drying | Wall mount version of our popular 8072. Measures dew point from -40°F to +15°F, ideal for the plastics drying industry. Built-in vacuum pump samples air through 1/4" plastic tubing. 230VAC version. Approx. 10-1/2"x8-1/2"x6", 8.5 Lbs | Add To Cart |
| RENTAL UNITS | DEW POINT MONITORS FOR RENT | We rent dew point monitors. | Add To Cart |
Additional Ordering Information

Create RFQ Manually