- OEM DEW POINT MONITOR KITS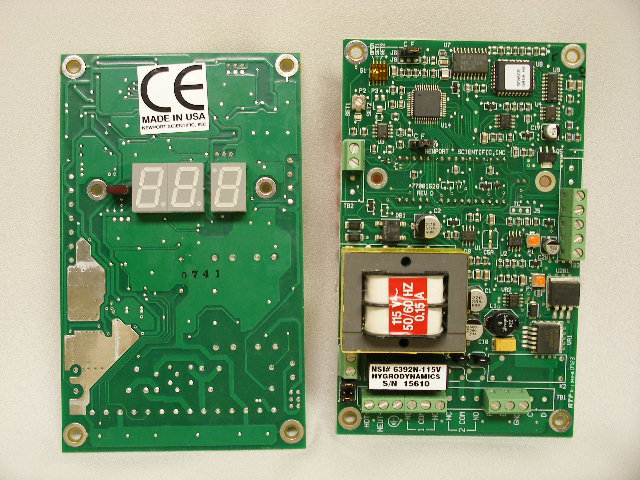 OEM DEW POINT MONITOR KITS
HYGRODYNAMICS DIGITAL DEW POINT MONITOR KITS ARE IDEAL FOR OEM DRYER APPLICATIONS FEATURES
Accuracy of + 2°F
Linear 4-20mA and 0-5VDC Outputs
NIST Traceable Sensors are Field Replaceable
24V, 115V, or 230V Operation
Optional °C Display with Jumper Change
Single or Dual 5A SPDT Relay Output
ENHANCE YOUR DRYING SYSTEM
A built-in digital dew point monitor can increase the value of a dryer. The monitor provides continuous measurement of dryer performance. Alarm and linear signal outputs allow customers to interface dryers to plant automation systems. The system can also control functions like desiccant regeneration or compressor shut-down based on dew point.
A Dew Point Monitor Kit is a combination of our
Dew Point Monitor PC board and a variety of support accessories
, depending on the application. Whether you are incorporating a kit into your dryer design, or satisfying a unique custom application, we can advise you on all the details. Just contact
Newport Scientific
, Inc. and we will help you with all the items you need. Our technical staff is knowledgeable and experienced with kit applications. We look forward to assisting you!
DIGITAL DEW POINT MONITOR BOARD MOUNTING DIMENSIONS / SPECIFICATIONS
| | 6392N-115V FOR REMOTE SENSING | 6392N-115V FOR PIPE MOUNTING | 6392W-115V FOR REMOTE SENSING |
| --- | --- | --- | --- |
| DEW POINT RANGE | -40 DEGREES F TO +15 DEGREES F | -40 DEGREES F TO +15 DEGREES F | +10 DEGREES F TO +70 DEGREES F (AT +73 DEGREES) |
| MAXIMUM PRESSURE | 150 PSI | 300 PSI | 150 PSI |
| SAMPLING METHOD | 1/8" NPT PORTS ON MANIFOLD | 1" NPT PIPE MOUNT | 1/8" NPT PORTS ON MANIFOLD |
| MAXIMUM SAMPLE AT AIR TEMPERATURE | 140 DEGREES F | 140 DEGREES F | 100 DEGREES F |
| PC BOARD DIMENSIONS | 3.5" W x 5.75" H | 3.5" W x 5.75" H | 3.5" W x 5.75" H |
| APPLICATION | PLASTICS DRYING | COMPRESSED AIR / DESICCANT DRYERS | COMPRESSED AIR / REFRIGERATED DRYERS |
SPECIFICATIONS AND ORDER INFORMATION
| Catalog Number | Product Name | Product Description | Add To Cart |
| --- | --- | --- | --- |
| 6392N-115V | OEM Low Range Dew Point Monitor Board | Measurement range -40°F to +15°F. Single relay output, 0-5V and 4-20mA output, 115VAC powered. | Add To Cart |
| 6392N-230V | OEM Low Range Dew Point Monitor Board | Measurement range -40°F to +15°F. Single relay output, 0-5V and 4-20mA output, 230VAC powered. | Add To Cart |
| 6392N-24V | OEM Low Range Dew Point Monitor Board | Measurement range -40°F to +15°F. Single relay output, 0-5V and 4-20mA output, 24VDC powered. | Add To Cart |
| 6392N2-115V | OEM Low Range Dew Point Monitor Board | Measurement range -40°F to +15°F. Dual relay output, 0-5V and 4-20mA output, 115VAC powered. | Add To Cart |
| 6392W-115V | OEM High Range Dew Point Monitor Board | Measurement range +10°F to +70°F. Single relay output, 0-5V and 4-20mA output, 115VAC powered. | Add To Cart |
| 6392W-230V | OEM High Range Dew Point Monitor Board | Measurement range +10°F to +70°F. Single relay output, 0-5V and 4-20mA output, 230VAC powered. | Add To Cart |
| 6392W-24V | OEM High Range Dew Point Monitor Board | Measurement range +10°F to +70°F. Single relay output, 0-5V and 4-20mA output, 24VDC powered. | Add To Cart |
| 6392W2-115V | OEM High Range Dew Point Monitor Board | Measurement range +10°F to +70°F. Dual relay output, 0-5V and 4-20mA output, 115VAC powered. | Add To Cart |
| 6392W2-230V | OEM High Range Dew Point Monitor Board | Measurement range +10°F to +70°F, Dual relay output, 0-5V and 4-20mA output, 230VAC powered. | Add To Cart |
Additional Ordering Information

Create RFQ Manually